Alta Archer *March 26,1976 9:45pm*
Knobel- Mrs. Archer,70, died Friday night in Doctors hospital. She was a lifetime resident of Knobel.
Mrs. Archer was born July 16,1905, and married Henry Archer in January of 1924 in Knobel. He died in 1971. Mrs. Archer was a member of Union General Baptist Church in Knobel.
Survivors include a son, Collis Archer, Knobel; six daughters, Mrs. Opal Fairchild, Mrs. Alma Hart, and Mrs. Kay Haller, all of Knobel, Mrs. Goldie Fairchild, Memphis, Tenn., Mrs. Callie Prine, Greenwood, Ind., and Mrs. Norma Hanner, Poplar Bluff, a brother, Cecil Wiseman, Knobel, seven sisters, Mrs. Hilda Wright and Mrs. Reba A. Vines, Miami, Fla., Mrs. Lena Cummings, Wynne, Ark., Mrs. Leota Knopp, Reading, Mich., Mrs. Nadith Guinn, Florissant, Mrs. Bonnie Locke, Paragould, and Mrs. Letha Murray, Moark, Ark., 26 grandchildren and 14 great-great-grandchildren.
Services were to be held at 2 pm today in Union General Baptist Church in Knobel. The Rev. Virgie Temple was to preside and burial was to be in Bond Cemetary at Knobel. Russeell-Ermert Funeral Home made the arrangements.
Services at Knobel for Mrs. Katie Rosetta Eaton *1960*
Funeral services for Mrs. Katie Rosetta Eaton, age 85, were conducted Wednesday, December 14, at the Union Church in Knobel by Sister Virgie Temple.
Mrs. Eaton, a resident of Knobel, died there December 12 at 9:45 pm. She was born January 6,1875 in Lamar County, Texas. She had resided at Knobel for 50 years and was a member of the Union Church.
Survivors are two sons, Winford and Henry Archer, both of Knobel, two daughters, Mrs. Della Fraine of Knobel and Mrs. Willie Council of Charleston, Texas; 28 grandchildren, 58 great-grandchildren and 18 great-great-grandchildren.
** Kathryn"Katie" was the daughter of Archibald Johnson Gordon & Louisa Frances Grammer. Her 1st husband was Henry Marron Archer died 1905 in Texas. Katie Eaton
was buried in Bond Cemetery, Clay County,, Arkansas. Katie R Eaton
David Howard Jenkins

David Howard Jenkins, 85, of Sumner passed away Saturday, Aug. 8, 2009.

Services are scheduled for 10 a.m. Wednesday, Aug. 12, at Bright-Holland Funeral Home with Rev. Chad Lamb officiating. Burial follows in Evergreen Cemetery with Rev. Charles Scarborough officiating.

The family receives friends from 7 to 8 p.m. Tuesday, at the funeral home.

He was the son of Thomas Dee and Mader Melton Jenkins, born April 20, 1924, in Pocahontas, Ark. He served in the U. S. Army during World War II. A farmer and rancher, he and his wife owned and operated Jenkins Chicken Farm in the Bluff Community north of Detroit for 25 years. He was a member of Victorious Life Church.

He was preceded in death by his parents; four sisters, Effie Jenkins, Mary Gordon and husband, Mac, Ann Pierce and husband, Ray, and Ina Williams; and brothers-in-law, Kenneth Howard and Red Richardson.

Survivors include his wife, Doris Kennemer Jenkins, whom he married on Dec. 21, 1946, building 62 years of family and memories together; three children, Dewayne Jenkins and wife, Brenda Kay, of Paris, Kevin Jenkins and wife, Kaye, of Sumner and Barbara Hoskins and husband, Dwight, of Detroit; grandchildren, Jason Jenkins, Chad Jenkins, Delvin Hoskins, Kristen Jenkins Archer and Kasey Jenkins Black; great grandchildren, Amber Jenkins, Colton Jenkins, Troy Jenkins, Jacie Jenkins, Levi Hoskins, Brandt Archer, Breann Archer, Bryce Archer and Ashley Coursey; sisters, Ellen Richardson of Dallas, and Von Howard of Forney; a brother, Billy Jenkins and wife, Kerry, of Clardy; a brother-in-law, Arthur Williams of Clarksville; along with numerous nieces, nephews and a host of friends.

Casket bearers will be Jason Jenkins, Delvin Hoskins, Chad Jenkins, Levi Hoskins, Jeremy Archer and Robert Black.

To leave a message or tribute for the family please visit www.brighthollandfuneralhome.com.
Lleo B. Dodd
THE PARIS NEWS, Fri., Oct, 3, 1997, p. 4B: '(Picture) Lleo B. Dodd, 89, of Paris died Thursday, Oct. 2, 1997, at his home. Services will be at 10:30 a.m. Saturday, Oct. 4, in Gene Roden's Sons Funeral HOme Chapel with Dr. Sidney Young officiating. Burial will be in Evergreen Cemetery. The family will receive friends from 6-7 p.m. Friday at the funeral home. Mr. Dodd was born June 15, 1908, in Biardstown to George Oscar and Lucy Lucille Towers Dodd. He attended Biardstown High School, Paris Business School and graduated from East Texas State Teachers College. He was a lieutenant commander in the Navy, serving from 1942-46 in the Caribbean, North Atlantic, Belgium and Holland. He taught school at Viewpoint and Jennings for five years each and later at Delmar and East Lamar where he served as superintendent from 1952-70. He then taught at Blossom schools. He was owner and operator of Church Street Trading Post from 1977-96 and also enjoyed ranching at the same time. He was a 50-year Mason and member of Adult 7, J. T. Shipman Sunday School Class at First Baptist Church. He married Sue Pickering Feb. 15, 1978. Surviving are his wife; son and daughter-in-law, Travis and Connie Dodd of Paris; stepson and wife, Creighton and Carol Pickering of Paris; stepdaughter and husband, Claudette and Jerry Pritchard of Claremore, OK; grandsons, David Dodd of Winnsboro, Jeff Dodd of Orlando, FL and Phillip Dodd of Paris; a great-grandson, Steven Dodd of Portland, OR; five step-grandchildren, Bret Pritchard of Oakgrove, MO, Kevin Pritchard of Claremore, OK, Deidra Holderman of Owassa, OK, Scott Pickering of Paris and Jeff Pickering of Dallas; a step-great-grandson, Caleb Pickering; two brothers, Verbie Dodd and Cloyd Dodd, both of Greenville; and two sisters, Buel Gordon and Clara Gordon, both of Paris. He was preceded in death by his first wife, Mary Pauline Humphrey Dodd Feb. 2 [21], 1977; a daughter, Margaret Elaine Dodd Parker Sep. 27, 1980; three sisters, Jewel Melton, Buna King and Nona Petty; and one grandson, Joseph Brayden Dodd. Pallbearers will be Hurshell Hatley, Bruce McCuin, Bob Kennedy, Bill Flanary, George Pledger, Homer Briggs, Loyd Matthews and Buck Rader. Honorary bearers will be members of J. T. Shipman Sunday School Class.'
Mary Etta Williams was Bettye Johnson's mother
GRAND PRAIRIE- Mary Etta Williams, our beloved Mother and Granny, was welcomed into the arms of her Savior, Jesus Christ, on Sunday June 8th. She was 87 years old.
FUNERAL: 10 a.m. Friday at Bean-Massey-Burge Funeral Home in Grand Prairie. BURIAL: will follow in Southland Memorial Cemetery. Visitation: 6 to 8 p.m. Thursday at the funeral home.
Mary was born on Jan. 16th, 1921 in Anna, TX to Charles and Stella Runnels. She graduated from Anna High School where she lettered in Basketball. She lived most of her life in Grand Prairie, TX where she owned Hill Street Automotive. Mary dearly loved children and was a foster mother to dozens of children throughout her life. She was a lifelong Dallas Cowboys fan whose all time favorite player was Emmitt Smith. Always a champion for the underdog and those in need she never turned her back on someone she could help. She was a longtime member of Westrigde Baptist Church in Grand Prairie. We loved her dearly and will miss her every day.
Mary was preceded in death by her Grandmother Mary Runnels, her parents Charles and Stella Runnels, her brothers George, Jim, Elmer, and Emmit Runnels, her sister Faye Gourd, her daughter Patsy Jean Lindsey, her first husband Lee Austin Powell, and her second husband Clarence Howard Williams.
Mary's family would like to express our heartfelt gratitude and thanks to the staff of Clare Bridge Cottage in Richland Hills. Your care and love for Mary was evident and meant so much to us. We will forever be grateful to all of you. We would also like to thank Seasons Hospice, especially Bonnie and Heather, who made Mary's transition to her eternal home so much easier for her.
SURVIVORS: Daughter, Bettye Johnson and her husband Ken; Sons, Roger Powell and his wife Jeanne, Terry Powell and his wife Kathy; Stepsons, Alton Powell and his wife Foncell, James Powell and his wife Holly; Stepdaughter, Laura Brooks; Grandchildren, Tonya Lockard, Jack Stanley, Rod Powell, Darrin Powell, Chris Powell and Kim Griggs; Great-Grandchildren, April Goff, Michael Boyd, Landon Stanley, Jacqueline Stanley, Audrey Powell, Seth Powell, Adrian Powell, Madison Griggs, Lathan Powell and "Baby" Powell; Great-Great-Grandson, Julian Goff; several Nieces and Nephews and a multitude of Foster Children.
Johnny Gentry
From an unnamed and undated article located in the Lamar County Genealogical Society Library, in the Taylor Collection, Box G: 'Johnny B. Gentry of Rt. 3, Paris, at the Rockford community, died at 12:30 a.m. Thursday at McCuistion Regional Medical Center. Services have been set for 4 p.m. Friday at the Leverett and Steele Funeral Home Chapel. Burial will be in Evergreen Cemetery. The family will receive friends 7 to 8:30 p.m. tonight at the funeral home. Mr. Gentry was born Dec. 5, 1905, in Jonesboro, TN, son of John Gentry and Mary West. He married Dovie [L.] Gordon on July 22, 1936, in Lamar County. He had lived most of his life in Lamar County and was a retired farmer and rancher. He was a member of the Life Tabernacle Church at Cunningham. Survivors include his wife; one son, John Henry Gentry of Paris; one daughter, Mrs. John Wayne (Jenola) Booth of Mount Pleasant; five brothers, Jay Gentry of Lake Creek, Buster Gentry of Blossom, Ted Gentry of Lubbock, Jess Gentry of Novice and Manuel Gentry of Lake Creek; three sisters, Mrs. Woodrow (Vera) Prichett of Honey Grove, Mrs. Howard Dickerson of Rt. 4, Paris, and Mrs. Manuel (Vada) Nations of Paris; and five grandchildren.'
Dovie (Gordon) Gentry
THE PARIS NEWS, Mon., Nov. 9, 1992, p. 12A: 'Dovie L. Gordon Gentry, 82, formerly of Biardstown, died Sat., Nov. 7, in Medical Plaza Nursing Center. Services at 4 p.m. Tue., Nov. 10, at Grant Funeral Home in Deport with Rev. Dverle Archer and Rev. Tony Corsco. Born in Biardstown, a daughter of Henry and Myrtle Mitchem Gordon, she married Johnny Gentry Jul. 22, 1936, in Biardstown. He died in 1977. Surviving are a daughter, Jenola Cavender of Deport; a son, John Henry Gentry of Paris; a brother, Howard Gordon of Paris; a sister, Maureen Richardson of Paris; 7 grandchildren and 6 great-grandchildren.' This is also entered under surname Gordon.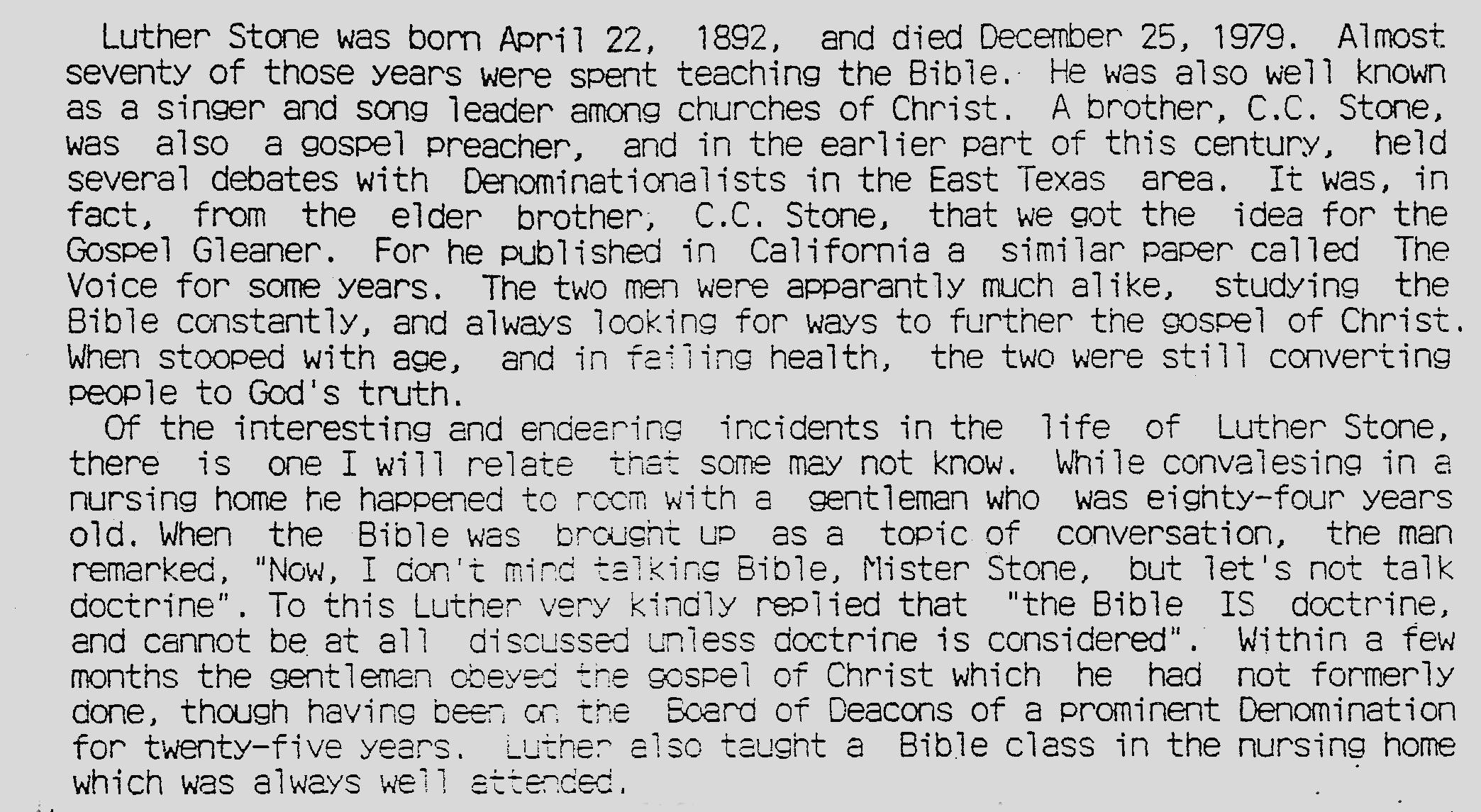 Luther 'Luke' Stone was a brother of Kenny Shelton Stone, my maternal grandfather.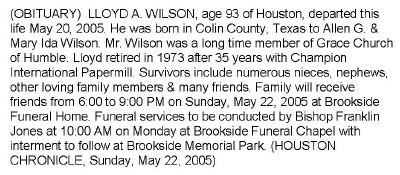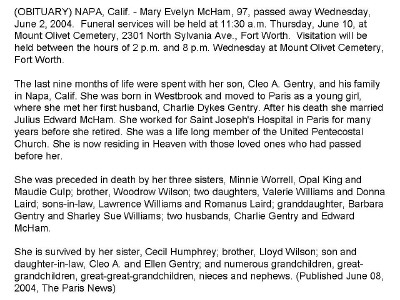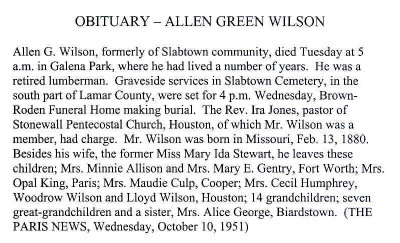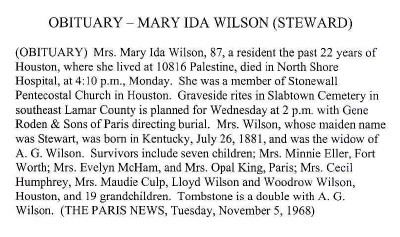 George E. "Sonny" Hatcher
April 16, 2008
George E. "Sonny" Hatcher, 75 of Paris, passed away Tuesday, April 16, 2008 at Paris Regional Medical Center.

Funeral services have been set for Friday, April 18, 2008 at Fry-Gibbs Funeral Home at 2:30 P.M. with Rev. Brien Sturgill officiating. Interment will follow at Evergreen Cemetery. The family will receive friends at the funeral home from 7:00 to 8:00 P.M. on Thursday evening.

He was born at Shady Grove, Texas on October 14, 1932 to Wade and Lillie Hatcher. He attended Canaanland Church of God. He was a car dealer for the past 32 years and worked for 20 years at the Paris News.

He is survived by his children; Stacy Hatcher and wife Melanie of Paris, Shane Hatcher of Paris, and Tamara Burns and husband Clifton of Lewisville, Arkansas, grandchildren; Ryan Hatcher, Blaine Hatcher, Logan Fountain, Mercedes Hatcher and Blayre Hatcher, sisters; Lorene Gross, Shirley Barnett and husband Ray, and Linda Rodgers and husband Gary, special nieces; Diane Howard and husband Dwain, and Kelly Coker.

He was preceded in death by his parents, brother-in-law; Rev. Arnold Gross.

Serving as pallbearers will be Delane Winton, Gary Jack Ingram, Charles Davidson, Charles Hicks, Bill Nichols and Norris McDowell.



Ken Maddox

Ken Maddox, 78, of Paris, left this life peacefully, Monday, May 5, 2008, at Paris Regional Medical Center.

Starrett Funeral Home conducts funeral services at 3 p.m. Wednesday, May 7, at First United Methodist Church with the Rev. Van Lazaroff and the Rev. David Rucker officiating. Interment follows in the Woodland Cemetery.

The body lies in repose at the church for one hour prior to the service.

The family receives friends from 7 to 8 p.m. Tuesday at the funeral home.

He was born July 31, 1929, in Medicine Mound, a son of Benjamin Franklin and Nettie Hightower Maddox. He attended schools in Hardeman County, then served in the United States Army from 1951 to 1953 during the Korean Conflict, serving much of his time in Goose Bay, Labrador. Following his military service he enjoyed the honor of serving as Post Commander of the American Legion post in Memphis, TX.

Upon returning from military service he married Jackie Barkley and to this union were born two daughters, Vickie Diane and Debra Lea. He made his home and career in the Borger area until 1974, when he moved to Lamar County, making his home with his mother in Woodland. On Aug. 31, of that year Ken married Eleanor Vaughan Thomas and acquired four stepchildren, whom he treated as his own, Eddie, Janie, Patti and Joy Thomas.

He was a sales representative for MoorMan Manufacturing Company in Nacogdoches, Paris, and northwest Ohio. Upon retiring he continued with his first career choice, cattle ranching, until 1999. A lifelong Methodist, he was a member of First United Methodist Church and its New Era/Upper Room Sunday School class.

He was preceded in death by his parents; his first wife, Jackie; six brothers, Porter, Linus, John, Ted, Frank and Jack; one sister, Ruby Goodnight; and one step-son, James Edwin "Eddie" Thomas.

He is survived by daughters, Vickie Ryan, and husband, Greg, of Big Spring and Debra Martin, of Springfield, Mo. Also surviving are three granddaughters, Jennifer Lambillotte, Lindsey Lambillotte and Suzan Lambilllotte, and husband, Phil Mason. Also surviving to grieve his loss are Janie Thomas, and husband, Robert Young, of Coppell, Patti Jenkins, and husband, Shawn, of Carrollton, and Joy Negron, of Kingwood; other grandchildren, Kenneth and Sean Karl Negron and Sarah and Wesley Jenkins. Surviving brothers are Tom Maddox, and wife, Colleen, and Stan Maddox, and wife, Edna, of Pinhook, and Bob Maddox, and wife, Kay, of Carrollton. Surviving sisters are Cecile Grange, of White Deer and Mary Ann Harris, of Burleson, along with numerous nieces, nephews and other extended family.

Named to serve as casketbearers are Jerry Bailey, Ron Martin, Tony Hutto, Harlan Brown, Larry Carney and Andy Fasken.

Honorary pallbearers are Steve Wright, Bobby Pratt, Mackey Charles, Leo Caldwell, Jay Bost, Gilbert Terry and Carl Cooper.

If desired, the family requests donations may be made to First United Methodist Church, the New Era Sunday school class or Woodland Cemetery.




Miriam Rachel Eppes

CARROLLTON — Miriam Rachel Eppes was born in Lake Creek to James L. and Georgia D. Kerbow.

Memorial services were held at 10:30 a.m. Monday, Dec. 29, at St. Joseph's Retirement Village in Coppell.

She was a devout member of Paris Baptist Church. She will be missed terribly by her family and friends and all those whose life she touched. In her final years she lived at St. Joseph's Retirement Village until her death on Monday, Dec. 22, 2008. She was an elementary teacher for 34 years in the Pasadena area. She received a Masters of Education from the University of Houston. She moved to Paris in the mid 1980s and did substitute teaching there until her final retirement in the early 1990s.

She was preceded in death by her husband, Howard Eppes.

She is survived by numerous nephews and nieces; grand- and great-grandnephews and nieces; and one sister.

Randal 'Randy' Lee Garner
Randal "Randy" Lee Garner, loving son, devoted husband, brother, father, grandfather and friend, passed away Monday, Jan. 19, 2009, in Paris.
Funeral services are scheduled for 10 a.m. Thursday, Jan. 22 at Bright-Holland Funeral Home with the Revs. Randall Scott and Dan Edwards officiating. Burial follows in Evergreen Cemetery.
The family receives friends from 7-8 p.m. Wednesday at the funeral home.
He was born Feb.11, 1958, in Lamar County to Troy Lee and Deloris Garner. He attended Paris High School and later went to work for Sara Lee Bakery, where he worked for 29 years. It was during that time that he met his soul mate, Evelyn. They married on Aug. 6, 1989, and began their life of adventure.
He was a believer in Jesus Christ and is resting peacefully with his Heavenly father. He enjoyed spending time with his family and friends watching the Dallas Cowboys and NASCAR, and singing karaoke in his self-named "Randy's—Barage." He especially cherished the time spent fishing with his wife, Evelyn, and his son, Eric. He also loved volunteering his time at the family owned business, Terry's Beef Jerky.
He was preceded in death by his grandparents, Arthur and Julia Garner and Henry and Lois Bell; two aunts, Betty Bell and Nellie Garner; one uncle, R.J. Garner; and a cousin, Deborah Liesman.
Without a doubt the biggest loss will be felt by his wife, Evelyn Garner; his parents; his children, Eric Lee Garner and wife, Krista, of Paris; step-children, Kathren Dawes and husband, Rodney, of Denison, Arnold Lao and wife, Nanel, of Marieta, Calif., and Alvin Lao and wife, Hazel, of Marieta, Calif.; his grandchildren, Jared Lee Garner, Sydney, Taylor and Lindsey Dawes and R.J., C.J. and Holly Lao; one sister, Vickie Gibson and husband, Harvey; nieces, April Reams and husband, Jake, and Amanda Gibson; aunts and uncles, H.W. and Bonnie Garner, Bobby and Sharon Garner, Pete and Doris Patterson, Terry and Elaine Bell and Mike Bell; and numerous cousins and countless friends that loved him and will miss him dearly.
Named as casket bearers are Jimmy Glenn, Michael Glenn, James Glenn, Bobby Christian, Michael Bright and Jacob Reams. Honorary casket bearers are Carl Jensen, Roy Hardin, Bud Keenum and Mel Locke.
Special thanks for the love, support and prayers he received over the years. Randy taught us how to live life to the fullest, enjoy every minute and "that there was always room for more catfish."
The family requests that memorials be made in his memory to Immanuel Baptist Church or Highway Christian Center in Reno.
To leave a message or tribute for the family, please visit
www.brighthollandfuneralhome.com
.
Published January 21, 2009